Why Do Bad Things Happen to Good People?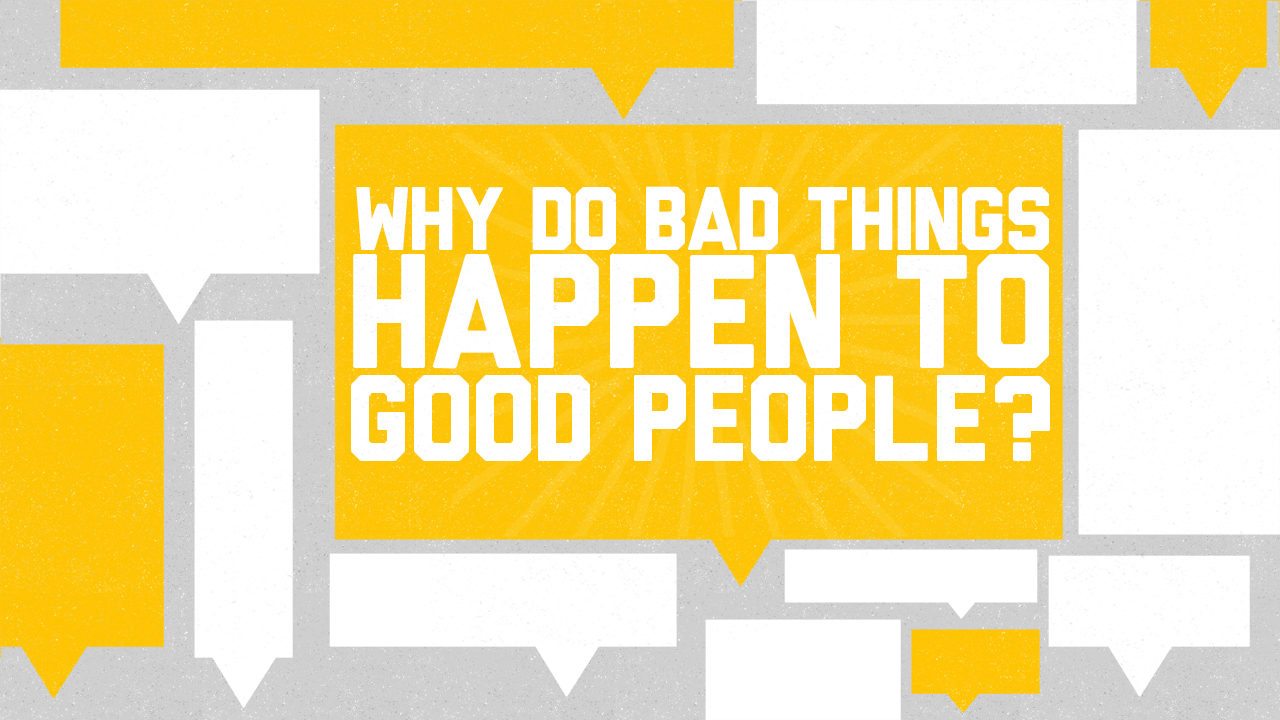 If you could have Jesus over for dinner and ask Him any question, what would you ask? The top question that people ask is, "Why do bad things happen to good people?" We covered this last week, and I wanted to review some of it here today.
Luke 2:46-47 says, "After three days they found him in the temple courts, sitting among the teachers, listening to them and asking them questions. Everyone who heard him was amazed at his understanding and his answers."
Think about that. Jesus is sitting down, listening, raising His hand, asking a question. Next verse: they were amazed at His answers.
There are times in life when you're faced with a big question, and you don't know what to say. You might be stumped like the teachers were in that room that day. You must remember that Jesus is the answer. Ultimately, every question will point back to a relationship with Him. I'm totally convinced of it.
Often what w're really asking is, "Does God even care about what's going on in my life?" It's no different than the leper in Matthew 8 who told Jesus, "I know you're able, but do You want to heal me?" He was asking, "Do you care?" Jesus replied, "Yes. I care." We get into trouble when we think God is oblivious or that He doesn't even care.
Is God fair?
Here's another related question: "Is God fair? Absolutely not! And what would happen to us if God was fair? Look at Psalm 103:10:
"He does not treat us as our sins deserve or repay us according to our iniquities."
We can spend days talking about all the people in the Bible with horrific experiences. And history even tells us that every one of the Apostles was tortured and murdered for their faith. But Jesus prepared them in John 16:33 with, "I have told you these things, so that in me you may have peace. In this world you will have trouble. But take heart! I have overcome the world."
So, let's look at this question from God's perspective.
I have no evil plan for you.
After hearing that, my follow-up question would probably be, "Okay, if you have no evil plan for me, why didn't You create a world where there was no evil, suffering, or pain?"
He would then reply, "I did. That's exactly what I created. In the garden, in the cool of the day, there was no pain and no suffering."
This was His original intent for us. Genesis 1:31 says, "God saw all that He had made, and it was very good."
Then my question would be, "Okay God, if you didn't create evil and suffering, then where did they come from?"
I believe, based on Scripture, that evil and suffering came from the decision that God gave us for freedom – freedom to choose Him or not to choose Him. We had the entire garden that we could choose from and just one place where we could not. The reason why God set it up that way is because God is love.
What He wants from you and I more than anything else is love. If He would not have given us freedom to not love Him, then we would have never been able to love Him. Love cannot exist without the freedom to not love. The Lord wanted us to be able to choose to love Him or even choose not to love Him.
If the Lord was with me, another question I'd probably throw out is, "God, if you knew that we were going to be introduced to evil and we were going to have pain and sorrow, then why did You let this happen?"

That's a fair question, and I'll answer it this way. If you're a parent, did you ever think about the fact that, when you have a kid, you'll be introducing him to a world where there's pain, suffering rejection and heartache? Somewhere along the way, you decided to do it anyway. Why? Because there was the possibility of someone who could love you, and you could love them. Maybe you could experience closeness. Maybe you could be a family together.
I can cause even bad things to work out for your good.
Another response God would have to the first question is this: I can cause even bad things to work out for your good. He even promises that in Romans 8:28: "And we know that in all things, God works for the good of those who love Him, who have been called according to His purpose."

Have you ever had something bad happen that caused you to want more of God? Have you ever been in a place where no one else could help?
C. S. Lewis had a great perspective: "God whispers to us in our pleasure. He speaks to us in our conscience but He shouts to us in our pain. Pain is God's megaphone to wake up a deaf world.
Think about it. When your marriage is on, you've got plenty of money, everybody loves you, and you feel good, you may not run to God as much. But when things are crashing down and no one else can help you, it's when we run to Him. Here are two verses relevant to this point:
"For God sometimes uses sorrow in our lives to help us turn away from sin and seek eternal life." – 2 Corinthians 7:10
"Not only so, but we also glory in our sufferings, because we know that suffering produces perseverance; perseverance, character; and character, hope." – Romans 5:3-4
If you like to work out, you've also heard, "No pain, no gain." That's true in life, too. In working out, my adage is, "No pain, no pain!" But that doesn't work in life. Hebrews 5:8 says, "So, even though Jesus was God's son, He learned obedience from the things He suffered."
I have a glorious future in store for you.
God's third response is: I have a glorious future in store for you. If only you could see what it is that I have planned for you!
Paul said in 2 Corinthians 4:17, "For our light and momentary troubles are achieving for us an eternal glory that far outweighs them all." The people of Philippi were experiencing friction when Paul wrote to them, "Look, the reason why you have problems in your life, why there's friction, is because you have forgotten this one thing. We are citizens of heaven."
 Don't forget about eternity.
Paul was beaten five times with a cat o' nine tails, and thrown into prison several times, where he just kept going, writing letters. He was shipwrecked a few times. One of those he barely survived, bobbing a long time in open waters. He was freezing cold, finally saw an island, swam to it, barely making it. As he built a fire to warm himself, a poisonous snake came out of the wood and bit him. You would think he would say, "What?"
The reason he didn't is because he was able to see eternity in the midst of the pain. When he was thrown in prison, he still wrote letters saying, "Rejoice in the Lord always. Again, I say rejoice." How did he do that? He kept an eternal perspective.
One day, we're going to be in heaven. The calendar and the process of time that God lives in is different than yours. A day for Him is like a thousand years. A thousand years like a day. He just doesn't live in the space of time the way we do.
We will be there one day. We will be there for a thousand years, then 2,000, then a million years, then a trillion. There will come a time when we won't know who died first. All we'll know is who was born again. I'll say, "United States of America," and you'll say, "Was that the name of one of my kids?
Gavin Reed, a British pastor, tells about meeting a 17-year-old young man who, when he was just one year old, fell down a flight of wooden stairs, shattering his back. Subsequently, he was in extreme agony, suffering excruciating pain, throughout his life. Reed asked him, "Young man, do you think that God is fair in light of all this?" This kid said, "God has all of eternity to make it up to me."

1st Corinthians 2:9, "No eye has seen and no ear has heard and no mind has conceived what God has prepared for those who love Him."
I am waiting to help you.
Finally, God's fourth answer to this question: I am waiting to help you.
We've made a stab at answering this tough question, but if all it does is cause you to say the greatest prayer that was ever prayed, "Lord, help me," then it's worth it, because we cannot go through life without calling on Him. Don't try to answer this question without handing God the question, because He is the answer.